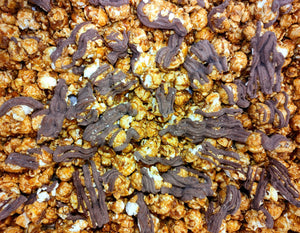 Chocolate Cosmo Popcorn
Shipping and Charlotte area free delivery instructions
Customer Guide- Sizing, serving and packaging
Welcome to The Blooming Kernel's #1 Seller! Even people who don't like coconut love this one!
The Ultimate Caramel and Chocolate Lovers Dream! Finally! The perfect combination of premium ingredients: Lightly Coated, decadent Butter Cream Caramel, Real mouth-watering baked shredded Coconut, melt in your mouth premium Milk Chocolate Drizzle and a perfect hint of Sea Salt. One bite of this delicious recipe and you'll be in heaven!
This flavor was inspired by everyone's favorite girl scout cookie!
All of The Blooming Kernel's recipes are original and crafted with 100% premium ingredients, created to stick in your memory, not to your teeth!
Ingredients: Popcorn, sugar, brown sugar, corn syrup solids, Milk chocolate (sugar, unsweetened chocolate, whole milk powder, coco butter, soy lecithin, vanilla), oil (corn, vegetable, soy, or coconut), water, butter molasses, pure vanilla extract, cream, sea salt, salt, cream of tartar.
Allergen information: Contains dairy, soy and coconut.