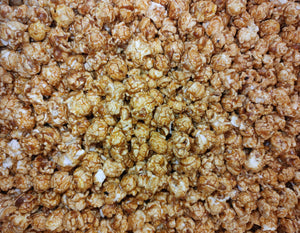 Blooming Caramel Popcorn
Charlotte Area Guide to Free Delivery!
Customer Guide- Sizing, serving and packaging
Welcome to The Blooming Kernel's flagship. It is our passion for Caramel popcorn that led to the Blooming Kernel's Creation. Our very own recipe, which arose from sampling hundreds of different brands and years of recipe experimentation.
The Blooming Kernel hand whips cream to perfection (our little secret), premium fresh butter and lots of real pure vanilla extract. Lightly coated with the most smooth, decadent, perfectly balanced flavor.
Did we mention, it won't stick to your teeth?

Blooming Caramel Ice Cream topping! Sprinkle small pieces of Caramel popcorn onto your favorite ice cream. Adds the perfect crunch and caramel flavor!
The Blooming Kernel's recipes are created 100% by us, and are simply the best! We spare no expense to create the absolute best products.
Ingredients: Popcorn, Sugar, Brown Sugar, corn syrup solids, oil, (corn vegetable, soy or coconut), water, butter, molasses, soy lecithin, pure vanilla extract, heavy cream, salt, cream of tartar.
Allergen information: Contains Dairy and Soy. Manufactured in same equipment as used with coconut. Does not contain coconut. May contain minimal trace coconut oils. Processed in the same facility as peanuts and other tree nuts.